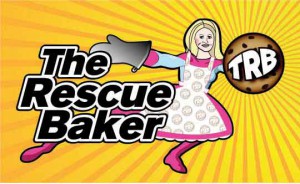 It's a question TRB gets often enough to warrant a thoughtful answer: "What kitchen tools are really required to be a great baker and what tools are just nice to have?" Truth be told, TRB likes to try to do as much as possible by hand. How impressive, you might think, but actually, it's sheer laziness. TRB is constantly looking for prep time shortcuts and to do as little clean up as possible after baking. So, it's no wonder that low-tech, traditional tools tend to fare better in this kitchen.
If you've been waiting for a (short) list of kitchen essentials for baking, here's TRB's advice:

Anchor Glass Mixing Bowls
A glass bowl is always the first thing TRB reaches for when preparing to make any great dessert recipe… You can find Anchor Glass Mixing Bowls on Amazon.com for about $10, and you'll soon see why it's a small price to pay for such a crucial kitchen item. The stackable glass bowls come in three sizes and are handy enough for mixing cookie dough, cake mix, brownies, as well as prepping crumb toppings, fruit fillings and more.
Measuring Cups and Spoons
Since baking is an exact science, it's tough to be a baker and not own measuring cups and spoons. You'll need to take great care in measuring all of your ingredients, so definitely get yourself a set of each. TRB admires: All-Clad 4-Piece Measuring Spoon Set and Oxo Soft Handle Measuring Cups.

Kitchen Aid Stand Mixer
TRB's first major kitchen appliance was a Kitchen Aid Stand Mixer – purchased before even leaving Mom and Dad's house. As mentioned earlier, TRB likes to mix by hand for ease of clean up, but it's certainly been helpful to have the stand mixer around over the past 10 years, especially when making large batches of cookies at Christmas and as favors for special occasions. (Now, if only TRB could come up with an excuse to run out and buy the Artisan…). 

Cookie Sheets
TRB challenges you to bake up chocolate chip cookies without a cookie sheet. It's virtually impossible to get perfect cookies from any other type of pan. So, take this one for granted. If you want to bake cookies, you'll need a good cookie sheet. TRB favorite: Wilton cookie sheets in assorted sizes sold online and in Michael's. (Remember: The lighter in color the pan, the less likely you are to burn your cookies).
Basic Pans
In addition to cookie sheets, you'll need a few other types of pans to get your bake on — cupcake, loaf, cake and springform pans are a must.
TRB
Tip: For the best value, look for a
set
with one or two of each type of pan.
Cooling Racks
Get a few
wire cooling racks
— they come in super handy when you're making a lot of cookies or need to cool a few cakes at a time.
Parchment Paper
Lots of celebrity chefs on Food Network love to use the Silpat to ensure cookies won't stick to the sheet or burn. TRB loves it too, but the price tag is a little tough to justify, especially, if you're on a tight budget. If you're not registering at Williams-Sonoma any time soon, get a box of parchment paper at your local grocery, discount or crafts store. Your sweets won't burn, parchment paper makes clean up a breeze and it won't break the bank!
Microplane Grater / Zester
When making Lemon Poundcake, TRB always brings out the trusty zester to get the most lemon flavor  possible into the cake. The zester also comes in handy for shaving chocolate, grinding nutmeg and even grating cheese.
Whisk
If you're going to be working with egg whites, batters and frostings, it always helps to have a whisk at your disposal. A whisk allows you to incorporate air into those egg whites for fluffier cakes and stiff meringues, as well as break up lumps in batters and frostings. It's a good idea to buy whisks in a few different sizes too.
Oven Mitts and Pot Holders
You'll be transporting pans from into and out of the oven, so, please, don't forget the oven mitts! Get some pot holders while you're at it and your countertops will thank you. (How appropriate are these Cupcake Oven Mitts for TRB?!)
Treat Boxes
TRB has yet to encounter the person who wasn't absolutely thrilled to receive homemade baked goods. Get some treat boxes to give away the fruits of your labor and you'll make even more friends — fast.
Did you find this list to be helpful? What is your favorite baking tool? Post a comment below.