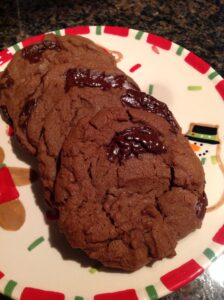 With just 10 days left until Christmas, now is the time to start preparing homemade holiday cookie trays. As one of my most favorite annual traditions, this year, I'm proud to bring you a recipe for a cookie that is sure to become the star of your assortment — Ultimate Chocolate Chip
Cookies.
Truth be told, I carefully plan in advance what I'll include in holiday trays. I like to balance traditional "Christmas flavors" — tri-color cookies, butter cookies, pecan cups and "snowballs," for example, with some old-fashioned "comfort flavors" — oatmeal cookies, chocolate chip cookies and ricotta cookies. Typically, I'll layer these favorites at the bottom and top them with the holiday classics. (Have I mentioned how much I love this time of year?!)
Thanks to Divine Chocolate, I'm adding another fabulous cookie to the list. These Ultimate Chocolate Chip Cookies are so rich and decadent, you won't want to put them at the bottom of the tray! Since I consider myself to be an expert chocolate chip cookie maker, I tweaked this recipe ever so slightly. I eliminated the nuts — feel free to use them, if you'd like — and added a hint of vanilla, plus a little salt to draw out the incredible flavor of the chocolate.
Break out your cookie sheets and let's get started!

Ultimate Chocolate Chip Cookies
(Original recipe from Divine Chocolate Cookbook: Heavenly Chocolate Recipes with a Heart)
3.5 oz. Divine Dark Chocolate bar
1 cup walnut or pecan pieces (optional; TRB omitted)
9 tbsp. (or 1 stick and 1 tbsp.) unsalted butter, softened
1/2 cup granulated sugar
2/3 cup light brown sugar
1 egg
1 tbsp. vanilla extract
1/2 tsp. salt
1 and 2/3 cup all-purpose flour
3 tbsp. Divine cocoa powder
1/2 tsp. baking powder
1/2 tsp. baking soda
1. Preheat the oven to 350 degrees. Break up the chocolate into squares and mix with the nuts. Set aside until needed.
2. Beat the butter with the sugars until soft and fluffy. Beat in the egg and vanilla extract. Sift the flour, cocoa powder, salt, baking powder and baking soda into the butter and sugar mixture. Mix well, then stir in the chocolate squares and nuts.
3. Arrange tablespoons of dough on a cookie tray lined with parchment paper, spacing the cookies well apart to allow for spreading. Bake in a heated oven for about 12-15 minutes or until just firm. Remove the trays from the oven and leave to cool for 5 minutes before transferring the cookies to a wire rack to cool completely.
Store in an airtight container for up to 5 days or freeze for up to a month.
Other "Divine" Holiday Treats you might enjoy:
Really Rich Cupcakes
Incredibly Rich Fudge and Nut Shortbread
Old-Fashioned Buttermilk Chocolate Pound Cake
Half Cookie, Half Brownie
Divine Brownies
American Pecan and Chocolate Coffee Cake
TRB extends congratulations to the winners of the Divine Holiday Treats giveaway!! Laura of Style, She Wrote., Sally of Sweat Out the Small Stuff and Madeline Brubaker will each receive a chocolate gift set from Divine Chocolate. Thanks to all who entered! Happy Holidays!!