I know, I know. You've heard this one before. It's not the first time I've introduced a recipe claiming it is the best thing I ever made. I'm not one to cry wolf, though. I promise. It's just, well, I had never made this one before and it seriously takes the cake. (See what I did there?)
Do you love chocolate? I mean, really, really, really love chocolate? Then, you will no doubt love this cake. If you don't, well, I'm sorry. This post will be a complete bore for you. Feel free to skip to the volumes of lemon recipes I've featured over the years. If you do loooovvveee chocolate, though, sit back, drool over the photos and then run out to buy the ingredients for this recipe.
I will say, this one was a labor of love. I'm not a skilled maker of ganache (and, despite that, I found it incredibly easy) or layer cakes in general. Time consuming recipes are generally off-putting, mostly because I don't have a lot of time to spare these days. Since I was making this cake for my Dad's birthday celebration, I made an exception. Boy, was it worth it.
In typical TRB-fashion, I didn't stick to the recipe exactly. Even though I purchased the white chocolate, I didn't end up making that ganache for a layer of filling. (Dad's not a huge fan of white chocolate, and truth be told, neither am I). I'm also not a brandy drinker, so I didn't have any on hand for the frosting. I used my prized Godiva Caramel Liquor instead. I found that the frosting wasn't thick enough (mostly because my butter was likely too soft), so I added the remainder of the chocolate ganache filling to the frosting to thicken it. For the cake, I couldn't find crème fraîche, so I substituted sour cream.
No matter how you decide to make this cake — following the directions to the letter or not — just make it. Your friends and family will be grateful for many celebrations to come.
Chocolate Truffle Cake
(Adapted from Kimberly Sklar, Food & Wine)
CAKE
6 ounces bittersweet chocolate, finely chopped
1 stick unsalted butter
1 tablespoon pure vanilla extract
1/3 cup unsweetened cocoa powder
1 cup water
2/3 cup sour cream (6 ounces)
3 large eggs
3 large egg yolks
1 1/2 cups granulated sugar
1/2 cup light brown sugar
1 1/4 cups all-purpose flour
1 tablespoon baking soda
2 teaspoons baking powder
1 teaspoon salt
DARK CHOCOLATE GANACHE
1 1/3 cups plus 2 tablespoons heavy cream
10 ounces bittersweet chocolate, chopped
CHOCOLATE FROSTING
4 ounces bittersweet chocolate, chopped
3 tablespoons granulated sugar
1/4 cup corn syrup
6 tablespoons unsweetened cocoa powder
1/4 cup plus 2 tablespoons water
1 tablespoon Godiva Caramel Liquor
1 pound unsalted butter, softened
3/4 cup confectioners' sugar, sifted
Reserve cake scraps and remaining chocolate ganache for frosting and garnish
1. Preheat the oven to 350°. Butter two 15-by-12-inch jelly roll pans and line the bottoms with parchment paper. In a medium saucepan, melt 6 ounces of the chopped chocolate with the butter and vanilla over very low heat, stirring gently. Remove the chocolate mixture from the heat and let cool slightly.
2. In a small saucepan, combine the cocoa with the water and bring to a boil, whisking constantly. Let cool slightly, then whisk the mixture into the melted chocolate. Whisk in the sour cream.
3. In a large bowl, using an electric mixer, beat the whole eggs, egg yolks and both sugars at medium speed until pale and fluffy, about 5 minutes. Beat in the chocolate mixture. In a medium bowl, whisk the flour with the baking soda, baking powder and salt and transfer to a sifter or a sieve. Sift the dry ingredients and fold into the cake batter with a large spatula until fully incorporated.
4. Spread the batter evenly between the prepared pans. Bake the cakes in the lower and middle third of the oven for 25 to 30 minutes, until the centers spring back when lightly pressed; shift the pans halfway through baking. Let the cakes cool completely in the pans.
5. In a medium saucepan, heat the cream until small bubbles appear around the edges. Put the chopped chocolate in a heatproof bowl and pour the hot cream on top. Let stand for 2 to 3 minutes, until the chocolate has melted, then whisk until smooth. Set the bowl in a cool place until the ganache is firm enough to hold its shape, at least 1 hour.
6. In a medium saucepan, melt the chocolate over very low heat, stirring frequently. In a small saucepan, whisk together the granulated sugar, corn syrup, cocoa and water and bring to a boil, whisking constantly. Remove from the heat and whisk in the Godiva Caramel and melted chocolate. Let cool completely, about 30 minutes.
7. In the bowl of a standing electric mixer fitted with a wire whisk, beat the butter at medium speed until light and fluffy. Add the cooled chocolate mixture. At low speed, beat in the confectioners' sugar.
8. Cut out a 5-by-11-inch cardboard rectangle. Place a sheet of parchment or wax paper over each cake and top with a flat cookie sheet or cutting board. Invert the cakes and remove the pans. Keeping the paper attached, trim each cake to an even 15-by-11-inch rectangle, then cut each cake into three 5-by-11-inch rectangles; you will have 6 rectangles.
9. Spoon a small dollop of the chocolate frosting onto the cardboard rectangle and transfer one cake rectangle to it; peel off the paper. This will be the base. Spread the chocolate ganache on the base and top with another cake rectangle; peel off the paper. Spread chocolate frosting on the cake and top with another cake layer, peeling off the parchment. Repeat with 4 more layers, peeling the parchment off the cake rectangles and spreading them with the remaining chocolate ganache and chocolate frosting. Keep the sides even as you build the cake by smoothing them out with a metal cake spatula. Top with the final cake rectangle and peel off the parchment. Coat the sides and top of the cake with a smooth layer of chocolate frosting; refrigerate briefly to set the frosting. Spread the remaining frosting over the cake and garnish with crumbled cake scraps. Carefully transfer the cake (on its cardboard base) to a platter and refrigerate until firm. Using a hot knife, cut the cake into slices while cold and let come to room temperature before serving.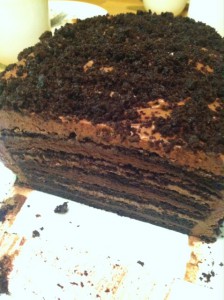 The cake can be refrigerated for 3 days or frozen for up to 2 weeks.
Will you try this recipe? Let us know what you think!