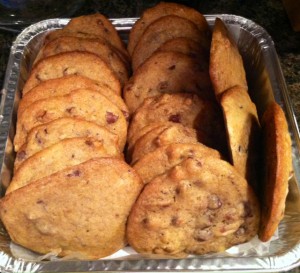 I don't normally write profound posts for TRB — unless, of course you think my musings about chocolate and Nutella are really "deep." Here goes nothing.
The past couple of weeks have put a lot in perspective. As a native Staten Islander, witnessing the devastation of Hurricane Sandy and continuing recovery efforts has been quite an eye-opening experience. Although my immediate family was extremely lucky to make it through the storm unharmed, so many in my hometown have lost everything — their homes, cars and just about everything but the clothes on their backs. To make matters worse, a Nor'easter bore down on New York and New Jersey this past week, temporarily stalling efforts to clear debris and begin the rebuilding process. Not to mention the gas shortages and subsequent rationing that have made it challenging to even get to those in need. And, as temperatures dipped in the wake of the hurricane, there was a heightened sense of urgency around restoring power to millions in the tri-state area who were struggling to keep safe and warm.
For me, the darkness illuminated what truly matters. It seems it has had a similar effect on countless volunteers who are coming from near and far, working around the clock to help those in the Staten Island community get back on their feet as quickly as possible. Staten Island has also been overwhelmed by the generosity of those across the country — and the world — who have donated food, supplies and funds to the cause.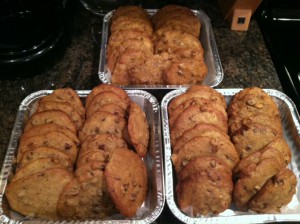 It seems only fitting to do something for the volunteers who are so selflessly assisting those afflicted by Sandy. TRB hopes dozens of Chocolate Chip Pecan Espresso and Chocolate Chip cookies make your efforts a little sweeter. Thank you for everything you are doing for Staten Island.
If you would like to help victims of Hurricane Sandy, please visit the websites below for more information on making donations or volunteering your time:
Stephen Siller Tunnel to Towers Foundation
American Red Cross
After the Storm: Sandy Recovery Info
Occupy Sandy Donation Registry on Amazon.com
Where to Help Sandy Victims in Staten Island