It's not every day I get to write a post about "Slutty" Brownies, so I'm pretty darn excited to share the love with you.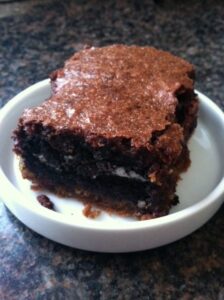 Literally.
What exactly are "Slutty" Brownies, you ask? The best way to describe them: A decadent, oooey gooey combination of chocolate chip cookie dough topped with Oreos and traditional brownie batter. In my interpretation of the name — alas, it is not an original TRB moniker — this dessert simply couldn't choose to be just one. It had to have all three. See? Totally slutty, right?
Whatever you call these (and I'm totally open to a better name, if you have suggestions!), you need to make a batch. Pronto. Then, serve them with some cookies and cream ice cream. Completely optional, but definitely takes them over the edge. Just sayin'…
I, of course, was inspired to bake the "Slutty" Brownies after discovering the fabulously sweet creation on Pinterest. Instead of following the recipe, though, I decided to use my beloved Toll House chocolate chip cookie recipe for the base and the Baked brownie recipe for the topping. Simply. Awesome. Combo.
Caution: If any of your friends and family find out that you have these around, you'll be flooded with phone calls, texts, Facebook messages and visitors dropping by to beg for a taste. They *are* that good. Consider yourselves warned.
Slutty Brownies
(Inspired by What's Gaby Cooking; Original recipes from Toll House and Baked)
For the Cookie Base:
2 1/4 cups all-purpose flour
1 tsp. baking soda
1 tsp. salt
1 cup (2 sticks) butter, softened
3/4 cup granulated sugar
3/4 cup dark brown sugar
1 tbsp. vanilla extract
2 large eggs
1/2 bag Ghirardelli semi-sweet chocolate chips
1. Combine flour, baking soda and salt in a medium bowl. Set aside.
2. Cream the butter with the sugars until light and fluffy. Add eggs, one at a time, and mix until incorporated. Add vanilla extract.
3. Add flour mixture to batter. Mix until well combined. Add chocolate chips and gently stir.
4. Prepare a 9×13 pan: Grease, line with wax paper and grease wax paper. Press chocolate chip cookie dough into pan.
5. Using a package of Oreos, press cookies into chocolate chip cookie dough, using enough Oreos to cover the dough completely.

For the Brownie Batter: 
1/2 cup all-purpose flour
1/2 tsp. salt
1 tbsp. unsweetened cocoa powder
5 oz. dark chocolate, chopped
1 cup (1 stick) unsalted butter
1/2 tsp. instant coffee powder
3/4 cup granulated sugar
1/4 cup firmly packed light brown sugar
3 eggs
1 tsp. vanilla extract
1. In a medium bowl, whisk the flour, salt and cocoa powder together.
2. In a saucepan over medium low heat, melt the butter with the dark chocolate. Add coffee powder and combine. Remove mixture from heat. Add sugars and incorporate. Add eggs and vanilla and mix.
3. Add wet chocolate mixture to dry ingredients and mix until no specks of flour remain.
4. Top chocolate chip cookie dough and Oreos with brownie batter. Spread until evenly coated.
5. Place pan in an oven preheated to 350 degrees. Bake for 45-50 minutes or until a toothpick inserted in the center of the pan comes out clean.
6. Allow brownies to cool completely and slice into squares. Yields 15-18 brownies.