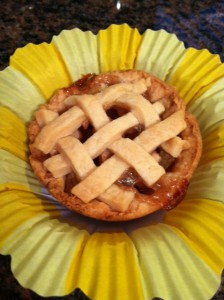 Nothing says "I love you" like a slice of pie. Well, maybe diamonds and a week-long beach getaway to a remote island do too. However, we are on pie today.
While planning a bridal shower for my sister, Laura, my mom, younger sister and I brainstormed "themes" to best celebrate our awesome bride-to-be. One of the themes, the history of bridal fashion, gave a nod to Laura's passion as a costume and textiles professional. The other, we gleaned from — you guessed it, Oprah — but, in our version, it became "Laura's Favorite Things." That led to serving Sangria for the signature drink and selecting giveaways from Sarabeth's, Burt's Bees and Bliss.
There is one more thing Laura loves just as much, if not more, than all of those, and that's pie. The favors had to be some variation on pie.
For months, I noodled with the idea of making "Pie in a Jar." In fact, I did some serious research on the topic. While we weren't expecting a huge crowd, the idea of stuffing 40 glass jars full of pie dough and potentially having them explode in my oven (despite the fact that bloggers across the Internet assured me they would not) didn't seem so appealing. I had to find another way. Thank goodness for Pinterest.
Now, mini-pie recipes are not at all hard to find; a standard cupcake pan and recipes for regular-size pies are pretty much all you need to get the job done. I quickly decided I would make my two most loved flavors, apple and pecan. The packaging, on the other had, proved to be a much more difficult problem to solve.
I was concerned about the pies getting damaged in my standard go-to cellophane bags. I needed something a bit sturdier to ensure they would withstand the trip to the venue. Boxes and pie packaging "kits" I found online were way too kitschy and wouldn't work with our themes. I also was not able to find labels that matched the artwork we chose for the invitations. Argh.
So, I did what any good maid of honor/big sister/OCD-baker would do. I went to Michael's. There, I found some fabulous (and super heavyweight) cupcake wrappers that doubled as flower decorations — perfect for the spring season! I then found some plain ivory labels, sheer ribbon and metallic markers to make my own tags.
All in all, the favors sort of remind me of mini-flower pots. I am super excited about how they turned out, and from what I'm hearing, the pie was pretty good too.
Congratulations to Laura and my future-BIL, Kevin! Can't wait for the wedding… XoXo
Mini-Pies
Yield approx. 44 mini pies
(24 apple and 20 pecan)
2 sheets of prepared pie crust or simply double your favorite pie crust recipe
Apple Filling
Pecan Filling
Filling of your choice!
TRB used this pie crust recipe:
4 cups all-purpose flour
4 tbsp. granulated sugar
2 tsp. (scant) kosher salt
4 sticks unsalted butter, cold and cubed
1/2 cup ice water
1. Measure flour, sugar and salt into a large bowl. Add the butter and work in with a pastry cutter (or your hands) until the mixture starts to resemble coarse crumbs.
2. Add water a little at a time until the dough starts to come together. Divide into two equal pieces, store in plastic wrap and allow to chill for a few hours.
3. Once the dough has chilled, roll out into 1/4-inch thick rectangle. Using a clean ramekin dipped in flour, cut out circles for the crust.
4. Place dough in cupcake pan, individually shaping each pie crust. Chill while you prepare the fillings.
Note: If you opt to include a lattice top, you will need an extra batch of dough. Simply roll out the dough, and cut strips lengthwise and then again in half. Arrange the strips in the lattice pattern and then place on top of filling, taking care to press lattice top into the sides of the crust.
For Apple Filling:
7-8 small Granny Smith apples, peeled and diced into small pieces
1 tsp. cinnamon
6 tbsp. granulated sugar (you may need more if your apples are super tart)
2 tbsp. flour
1. Mix all ingredients in a large bowl. Fill each mini-crust to about 3/4 full. (If you use too much filling, it will spill over the top, making it nearly impossible to remove the pies from the pan). Arrange with lattice topping, if desired. You could also use a crumb topping here.
2. Bake on 350 for 45 minutes, or until crust begins to brown and filling is bubbly. You can also opt to egg-wash the lattice top for a shiny top. (Mix 1 egg with a tablespoon of water and brush on top).
3. Let cool for 5 minutes in pan, then remove and cool completely on a rack.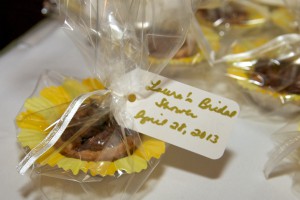 For the Pecan Filling:
1 cup Karo Dark Corn Syrup
3 eggs
1 cup granulated sugar
1 cup chopped pecans
1 tbsp. vanilla extract
2 tbsp. butter, melted
Whole pecans for decoration on top
1. Combine all ingredients in a large bowl. Fill each mini-crust halfway. (Do not use too much filling here – it's super sticky!) Arrange a whole pecan on top for decoration.
2. Bake at 350 degrees for 45-50 minutes. Let cool for 5 minutes in pan, then carefully remove (you may need to go around the edges with a knife) and let cool completely on a rack.
Note: Do not attempt to wrap your pies until they are completely cooled or you'll end up with ugly "sweat" beads on the inside of the bags.