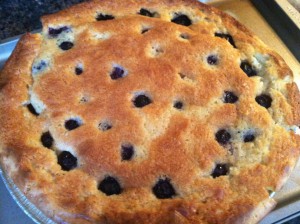 I don't know about you, but I'm always on the lookout for new, light dessert recipes. Oxymoron? Nah.
As you know by now, Pinterest provides lots of great inspiration. But, there's just something about turning actual pages and drooling over the photos in cookbooks and magazines. It usually leads to deliciousness in my kitchen.
Well, this is one of those delightful recipes.
On a recent shopping trip, my sister thoughtfully purchased the Better Homes and Gardens "Cakes!" baking magazine. It's chock-full of mouthwatering goodies, as well as cute ideas for themed birthday and holiday cakes. The "Everyday Cakes" section immediately caught my eye. (And, by "caught my eye," I mean I've earmarked at least four recipes and baked up two this weekend alone). All in all, I'd say she did good. Thanks, Cris!
I'm super excited to share with you one of the fantastic-ly light and delicious cake recipes, which was a hit with the family on Easter: Lemon-Blueberry Cake with Cheesecake Filling. I did, of course, mess with it — just a smidge. The original recipe calls for raspberries. Now, I like raspberry , don't get me wrong. I'm simply not a fan of fresh raspberries. They're too "hairy." 'Nuff said. Second, I didn't feel like cleaning a "real" cake pan (yes, I can be *that* lazy), so I used a disposable pie plate. I didn't think there was enough lemon flavor, so I added more. And, as I was mixing the cheesecake filling, something seemed "off" — it was way too watery. So, I made more. (Seeing a pattern here?) One important thing I must point out: Be careful not to overfill the pan, especially if you do get lazy and use a disposable pie plate. I had to strategically maneuver to get the remaining cake batter on top due to the fact that I made double the cheesecake filling. Although, I was nervous I'd have to "rescue" myself, it all worked out and was super yummy!
Make this one for your next dinner party. Make it because it's Tuesday. Just be sure to make it and tell me what you think.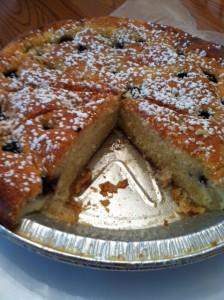 Lemon-Blueberry Cake with Cheesecake Filling
(Serves 10)
For the Cake
1 1/2 cups all-purpose flour
1 1/2 tsp. baking powder
1/4 tsp. baking soda
1/4 tsp. salt
1/2 cup butter, softened
1 1/4 cups granulated sugar
1 egg
1 tsp. vanilla
3/4 cup buttermilk
Juice of half a lemon
For the Cheesecake Filling
8 oz. reduced-fat (Neufchatel) cream cheese
1 egg
Zest of one lemon
1/4 cup granulated sugar
1 cup fresh blueberries, rinsed and dried
1. Preheat the oven to 375 degrees. Lightly grease and flour a 9″ pan. Prepare the cake batter: In a medium bowl, stir together flour, baking powder, baking soda and salt; set aside.
2. In another medium bowl, beat butter with granulated sugar. Add the egg and vanilla. Beat for about a minute until light and fluffy. Alternately add flour and buttermilk to butter mixture, mixing well upon each addition, until well incorporated. Add juice of half a lemon and mix.
3. Prepare the cheesecake filling: Beat cream cheese with granulated sugar until light and fluffy. Add egg and lemon zest and beat well.
4. Spread half of the cake batter in the pan. Top with cheesecake filling and spread to the edges. Carefully top with the remaining cake batter.
5. Bake for 30-35 minutes; cake will be puffed. Gently press the blueberries into the cake. Bake for another 30 minutes or until a toothpick inserted into center comes out clean. Cool completely and refrigerate until ready to serve.
6. Top with powdered sugar before cutting into slices. Enjoy!
What's your favorite "light" dessert recipe? Share it with us!