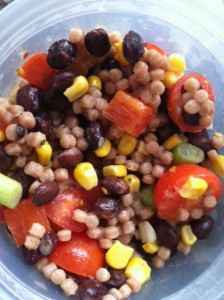 To counterbalance all of the baking I've been doing lately, I prepared some "healthy" meals for lunch and dinner this week. On the menu: Couscous Salad with Summer Veggies, Beef and Veggie Stir-Fry served with brown rice and Oven Roasted Tomatoes with Pancetta, Breadcrumbs and Garlic.
Now, you know I'm one to improvise, but I didn't have much of a choice. In fact, I realized I'd forgotten to purchase broccoli for the beef stir-fry, so I used a mixed frozen vegetable combination of asparagus, corn and carrots instead. (Still delish!)
In the case of the Oven Roasted Tomatoes, I've made them like 100 times now, and know the recipe by heart. If you are looking for a wonderful new way to enjoy summer tomatoes, definitely give it a try. Just don't do it during a heat wave because the tomatoes need to roast in the oven on 375 degrees for about an hour…
How did I come up with the Couscous Salad? Well, I was searching around Pinterest for some tasty dishes to make for lunch, and stumbled upon this Corn, Avocado and Black Bean Salad with Barley. Unfortunately, I didn't like the the avocados in the supermarket, so I only purchased red bell pepper and cherry tomatoes. I'm also not a huge fan of red onion (or any onions, for that matter), and opted for scallions, which add a milder onion flavor. I couldn't find Ancho Chile powder (bummer!), and had to use red chili flakes. An orange allergy led to a swap for lemon juice. And, because I'm impatient and wanted to prepare this meal quickly, I chose a quick-cooking whole wheat Israeli couscous in place of the barley. All in all, the dish is super yummy, portable and filling. I'd totally make it again!
Couscous Salad with Summer Veggies
1 cup whole wheat Israeli couscous
1 red bell pepper, diced
1 cup cherry tomatoes, halved
1 cup frozen sweet corn, thawed
3-4 scallions, chopped
1 can black beans, drained and rinsed
1 tsp. dried cilantro
1/2 tsp. red chili flakes
1 tsp. salt
1 clove garlic, minced
1 tbsp. olive oil
Juice of 1/2 a lemon
1. Cook couscous according to package directions: Heat a tablespoon of olive oil in a saucepan. Add couscous and stir for 2 minutes, then add 2 cups boiling water and 1/4 tsp. salt. Boil covered for 8 minutes. Let stand for 4-5 minutes in saucepan to cool.
2. Combine red pepper, tomatoes, corn, scallions, black beans and garlic. Add cilantro, red chili flakes, salt, olive oil and lemon juice. Toss to combine.
3. Add veggies to warm couscous and mix well. Yields 4 servings.