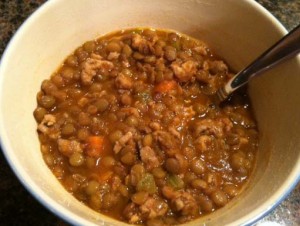 As the temperatures begin to dip, leaves begin to fall, the baseball season comes to a close and the Presidential debates rage on, there's nothing better than coming home to something warm, filling and flavorful. Enter: ChiLentil Soup.
No, the recipe doesn't hail from Chicago. In fact, this one is a TRB original. Well, sort of.
I was craving Lentil Soup the way my Mom used to make it when I was a little girl — with bits of ground beef and pepperoni. (Mom doesn't mess around). It was fantastically delicious fall comfort food, and I wanted to recreate it without the serious calories and fat. So, I added ground turkey breast instead. I know, I know, it sounds weird, but trust me — it's soooooo good.
To add even more depth of flavor, and to use up some leftover vino I just happened to have in the fridge, I decided to add a cup to the soup. Such a good call!
With all of the flavor of Lentil Soup and the consistency of a Chili, this recipe needs a combo name, hence, ChiLentil Soup. You could certainly add pasta* to this one, if you like. In my opinion, all you need is a blanket, remote control and a glass of the white wine you used in the soup to complete this cozy fall meal.
ChiLentil Soup
(Serves 6-8)
2 tbsp. olive oil
2 carrots, diced
2 stalks celery, diced
2 garlic cloves
1lb. lean ground turkey breast
1-2 tsp. kosher salt
1-2 tsp. black pepper
2 tsp. dried basil
1 can tomato paste
1 cup white wine
2 cups chicken broth
3 cups water
1 bag lentils
grated parmesan cheese, if desired
1. In a medium-size stock pot, saute the carrots and celery in olive oil until carrots are tender and celery is near translucent. Grate / crush in garlic cloves, taking care not to burn.
2. Add ground turkey and cook until meat is opaque. Add tomato paste, salt, pepper, wine and chicken broth. Bring to a simmer.
3. Add lentils, water and basil. Taste and add more salt, if needed. Simmer covered for 30-35 minutes or until lentils are soft.
4. Serve with grated parmesan cheese.
*If you're craving pasta, add some ditalini, tubetti or orrechiette after the lentils have been cooking for about 20 minutes for an even "heartier" dish.