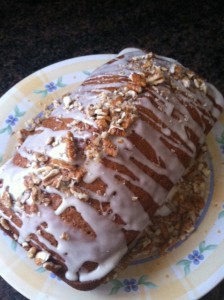 Ah, my favorite season is officially here. While I've had visions of apples and pumpkins in my head for weeks and weeks now, I'm excited to report that I've finally kicked off my fall baking with something a bit out of the ordinary for me. Gulp. A prepared baking mix.
It's true. I have a complex about such things. However, I was in Trader Joe's doing my weekly shopping and there it was — the famed Pumpkin Bread & Muffin Mix. I've heard so many good things from other diehard TJ's fans and have wanted to give it a try for so long, but I couldn't bring myself to make pumpkin bread from a box. Or could I? The more I thought about it (and read the ingredients), it didn't seem like such an awful idea. I mean, I enjoy making quick batches of corn muffins and Johnny cakes (aka corn pancakes) with Jiffy Corn Muffin Mix. Seriously, how bad could it be, right?
Well, my paranoia about being spotted buying a mix was justified at the checkout counter. TJ's staff is always super friendly, and my cashier was no different. She spotted the Pumpkin Bread & Muffin Mix in my cart, and excitedly exclaimed, "You're soooo going to love this!" I hurriedly replied, "Really? I usually make mine from scratch. I normally don't use mixes." She told me that she's a "from scratch" baker too, but that she couldn't believe how good this mix turns out. So there. I had approval to mingle with the mix.
Much to my delight, she was right! It turned out super moist, totally flavorful and, dare I say, even a little better than the one I make from scratch. To top it off, I added a drizzle of maple glaze and some crushed pecans. So simple, yet so delicious.
Trader Joe's Pumpkin Bread with Maple Pecan Glaze
(Makes 10 slices)
1 box Trader Joe's Pumpkin Bread & Muffin Mix
1/2 cup vegetable oil
1 egg
1 cup water
1. Grease a 9×5 loaf pan. Preheat oven to 350 degrees.
2. Mix all ingredients and spoon into loaf pan. Bake for 50-55 minutes or until toothpick inserted into center comes out clean. Set aside to cool.
Maple Glaze
1 tbsp. maple syrup
2 tbsp. low-fat milk
1/2 cup powdered sugar
10-15 pecans, crushed or chopped
1. Combine all ingredients until desired glazing consistency is reached. Drizzle over top of cooled pumpkin bread.
2. Top with crushed pecans. Cut into 10 slices.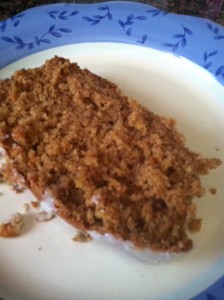 How are you celebrating fall? Post a comment below.