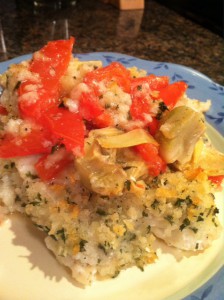 I'm baaaaaccckkkkk! Yes, readers, it has been awhile, but I'm here to serve up an amazingly light and delicious meal to keep you warm on these early-March cold winter nights: Cod with Tomatoes and Artichokes. This one is super quick and easy and combines two of my favorite go-to recipes.
A little backstory: As my sister's wedding quickly approaches, I've been starting to panic. My decade-and-a-half-long obsession with kickboxing has been replaced by a jam-packed meeting calendar and assignments to finish at home. I've seriously been slacking on the gym and the realization that I need to fit into my maid of honor dress (somehow) can only mean one thing: Diet.Starts.Now.
So, I wanted to make a nice, light protein-and veggie-filled dinner tonight. Thinking about the ingredients I had on hand: frozen Alaskan Cod, plum tomatoes, frozen artichokes, lemon and breadcrumbs, it occurred to me that I could combine two of my favorite recipes — white fish with breadcrumbs, lemon and garlic in a white wine sauce and Italian Chicken with Tomatoes and Artichokes — to yield one delicious new dish.
I quickly got to work chopping up the tomatoes (the most intense part of making this recipe, btw), and in just about 40 minutes, I had a yummy, healthy dinner on my plate.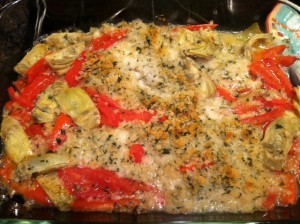 Cod with Tomatoes and Artichokes
(Yields 4 servings)
4 Frozen Alaskan Cod Fillets
6 ripe plum tomatoes
1/4 bag frozen artichoke hearts
3 tbsp. olive oil, plus more to coat breadcrumbs
3-4 tbsp. white wine
juice of one lemon
salt and pepper to taste
1/2 cup panko breadcrumbs
1/4 tsp. dried parsley
1/2 tsp. house seasoning (salt, pepper, garlic and onion powders)
1. Preheat the oven to 400 degrees. Prepare a 9×13 baking dish with the olive oil, white wine and half of the lemon juice. Whisk with a fork to combine.
2. In the meantime, cut and seed the tomatoes, cutting each into strips.
3. Make the topping: Combine the breadcrumbs with parsley and enough olive oil just to coat. Add house seasoning and mix.
4. Add fillets to prepared baking dish. Sprinkle with salt and pepper to taste. Arrange tomatoes and artichokes around fillets. Top each piece of fish with the breadcrumb mixture and squeeze remaining half of lemon over top.
5. Bake for 35 minutes, or until topping is golden brown, fish is opaque and tomatoes start to break down. Let stand for a few minutes before serving.
If you are craving carbs, enjoy with a side of brown rice or sweet potatoes!
What's your favorite light recipe in a pinch? Share your ideas with us. Post a comment below.