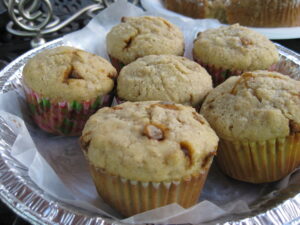 This is it, kids. The unofficial end of summer is here. I don't know about you, but this is one season I can't wait to kiss goodbye. The heat and humidity have been unbearable. It's been too hot to bake. Not to mention, the electric bill is getting a bit out of control.
Just so I don't seem like a complete "Debbie Downer," there is one thing I'm even more excited about — besides the fact that fall cooking and baking are just around the corner?! — and that's the lazy, three-day Labor Day weekend on tap. And, what better way to celebrate having an extra day off from work than with a delicious homemade breakfast?
These Oatmeal Cinnamon Muffins I'm about to share are absolutely made for a day of lounging around. You'll find they're even better if you're a houseguest at the shore. In fact, I took these along while visiting friends in the Hamptons and they were a total hit. Or is that "totes"? Nevermind. I'm too old to use words like "totes."
For inspiration, I consulted one of my baking bibles: The Complete Magnolia Bakery Cookbook. You'll be proud. I stayed true to this recipe, except… I added in half a bag of Hershey's Cinnamon Chips. I don't know about you, but I often pick up ingredients at the supermarket, which I fully intend to use and find in the cabinet months later only be completely delighted that I didn't. This was one of those times. The cinnamon chips added *just* the right flavor balance to these moist, yummy muffins.
Ready to whip up a fabulous breakfast this weekend? Try these and let me know what you think. Totes.
Oatmeal Cinnamon Muffins
(Original recipe from The Complete Magnolia Bakery Cookbook)
2 cups rolled oats (not quick-cooking oats)
1-1/2 cups milk
1-1/2 cups all-purpose flour
1 tbsp. baking powder
1/2 tsp. salt
1/4 tsp. cinnamon
2 large eggs, lightly beaten
1/2 cup firmly packed light brown sugar
1/2 cup (1 stick) unsalted butter, melted and cooled slightly
1 tbsp. vanilla extract
1/2 package Hershey's Cinnamon Chips
1. Preheat oven to 400 degrees. Grease a 12-muffin tin (or use paper liners). In a medium-size bowl, mix the oats and the milk and set aside for 10 minutes.
2. In a large bowl, mix together the dry ingredients, making a well in the center. Stir in the liquid ingredients and the oatmeal mixture until just combined, being careful not to over mix. Carefully fold in cinnamon chips. (Batter may be lumpy).
3. Fill the muffin cups about 3/4 full. Bake for 16-18 minutes or until lightly golden and a toothpick inserted in the center comes out clean. Do not overbake. Cool completely and serve.
What's your favorite "lazy day" breakfast? Share your recipes with us! Post a comment below.