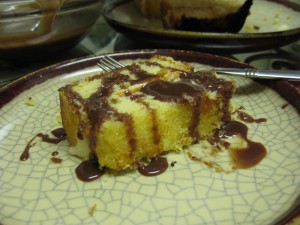 While TRB has had a full schedule lately, special guest poster, Laura of Style, She Wrote., brings us the perfect recipe for these hot summer nights — Peanut Butter Pound Cake S'mores. Not only does this recipe incorporates two favorite flavors — chocolate and peanut butter — perhaps, the best benefit is that there's no need to turn on your oven in this sweltering weather! Dessert? Done.
I had decided I would make a feast for my husband. But, after spending nearly two hours whipping up chicken chowder, I was in no mood to spend several more hours making dessert from scratch. Thankfully, Food & Wine offers many great options for lazy dessert makers (read: me), so I was able to make my beloved a tasty treat that even incorporated his favorite food (peanut butter): Peanut Butter Pound Cake S'mores.
Yes, you read it right. To borrow Emeril's signature phrase, S'mores are "taken up a notch" — okay, more like 10 notches! — in this recipe. Give it a try and let us know what you think!
Peanut Butter Pound Cake S'mores
(Recipe from Food & Wine, contributed by Grace Parisi)

2 ounces semisweet chocolate, chopped
1/2 cup heavy cream
One 1-pound frozen pound cake, preferably Sara Lee, thawed*
1/4 cup creamy or chunky peanut butter (not natural)
1/3 cup marshmallow fluff
1 tbsp. unsalted butter, softened
*I searched high and low for a Sara Lee pound cake, but no avail. Instead, I bought one from Whole Foods and threw it in the freezer. Problem solved! Of course, TRB would probably recommend that you attempt to make one from scratch, but again I am not this ambitious. (TRB Note: Sometimes it's okay to be "lazy;" go with the frozen pound cake to give yourself a well-deserved break!)
1. Put the chocolate in a heatproof bowl. Heat the cream until hot to the touch in a small saucepan. Pour the cream over the chocolate and let stand until melted. If the chocolate doesn't melt right away, I recommend popping the mixture into the microwave for few seconds… like I did. Then, whisk the chocolate with the heavy cream until smooth.
2. Preheat a griddle or large pan. Trim off the top and bottom of the pound cake so that the cake is about 1 1/4 inches thick. (I recommend saving the top for another night's dessert.)
3. Carefully split the pound cake in half horizontally. Spread the peanut butter on one half and the marshmallow on the other, leaving a 1/2-inch border all around. Lick all spoons and knives clean.
4. Sandwich the two halves together and spread the top and bottom with the butter. Mmmmm… butter.
5. Cook the extra buttery butter cake over high heat until warmed through (about 2 minutes). I recommend you turn the cake only once during cooking to prevent it from breaking apart.
6. F&W suggests cutting the cake into 12-3/4 inch strips, but mine were much more generous. (The recipe reputedly serves 4; we ate the whole cake ourselves. Whoops!)