Sometimes you just need a piece of chocolate. We've all been there – rough day at work, stressful commute, kids acting up – you find yourself wanting to devour something made of chocolate. Unless, of course, you are allergic. Now, that would make matters worse, wouldn't it?
Since I'm in a chocolate mood, it's a perfect time to feature a special guest post from Laura of Style, She Wrote., who brings us a delightful review of (and recipe for!) Pippa Middleton's Chocolate Truffles. Hope you saved me some, Laura…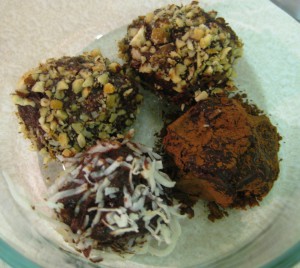 During an especially busy week, I decided to treat myself to something sweet. A dear friend gave me Pippa Middleton's Celebrate for Christmas, which includes a quick and easy recipe for tasty Chocolate Truffles, among other mouth-watering meals. Although many of Middleton's recipes look delicious, I've found many of them to be too complicated to make during the week (unless you have the 2-3 hours to make dinner every night). But, these truffles are so simple to make that they are ideal for the busiest of workdays.
Chocolate Truffles
(Original recipe from Pippa Middleton's Celebrate)
5 oz. of good-quality dark (70% cocoa) or milk chocolate
1/2 cup, plus 2 tbsp. heavy cream
1/4 cup light brown sugar, packed
Cocoa powder, chopped almonds and/or dried coconut to coat
1. Break the chocolate into small places and place in a heatproof bowl. Put heavy cream and packed brown sugar into a small saucepan. Bring to a boil, stirring to dissolve the sugar, and simmer for 1 minute. Cool for 30 seconds. Pour the cream over the chocolate little by little and mix well, working quickly until smooth and glossy. Don't overmix. Allow the ganache to cool to room temperature and then sample. (Okay – I added this that last step…) Pippa advises covering the ganache and putting it in the refrigerator for at least one hour to set, but I found it took my ganache about an hour and a half to set.
2. Once set, remove from fridge. Pippa suggests allowing the ganache to warm up to room temperature before rolling it into balls in your hands, but I found it's really hard to handle when it's that warm. Instead, I recommend scooping teaspoons of cold ganache and rolling them immediately. Pippa also recommends coating your hands with cocoa to make the ganache easier to handle, but I tried this and it made a huge mess. Instead, roll the balls quickly as the ganache will begin to melt, and then coat them with cocoa powder, chopped almonds or dried coconut. I recommend rolling all of the ganache into balls first, then rolling them in your choice of coating, otherwise the coatings 1. stick to your hands and 2. get allover all of the truffles. Refrigerate until ready to serve.
3. All three varieties were tasty, but the almond-covered truffles were definitely my favorite. (Note: Despite shaking off excess powder, I found the cocoa ones a bit chalky). In sum, the perfect dessert for those who want to "celebrate" every and any day.
Ready to indulge in some chocolate? Will you try this recipe?