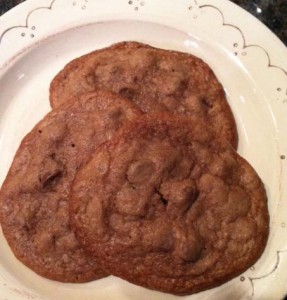 I've said this before and I'll say it again: I absolutely, positively cannot keep a jar of Nutella in my house. It never ever stands a chance. Willpower, schmillpower. It's way too tempting.
I blame my most recent moment of weakness on Target. Yes, that's right, it's all Target's fault. What began as a quest for coffee filters turned into a cart full of groceries. (Am I the only person who cannot leave Target without dropping $100 and wondering how that happened??) Well, the groceries included Nutella — Nutella, which was, of course, not on my list, but ended up in my hot little hands simply because it was on sale. Who can pass up Nutella for less than $5/jar? I mean, really.
Even though I swiftly stored it far out of sight upon arriving home, I couldn't stop thinking obsessing about what I was going to do with that glorious hazelnut chocolate goodness. I'm hopeless.
After a busy week, I was in the mood to bake up some good ol' fashioned chocolate chip cookies with — the Toll House recipe, what else? And, that's when it hit me: Why not add the heavenly Nutella to my beloved chocolate chip cookie dough? Jackpot.
I'm not going to lie, these were amazing. Notice the past tense there? Yeah, they're already gone. If you decide to make this recipe for friends and loved ones, you may want to double it. Just sayin'.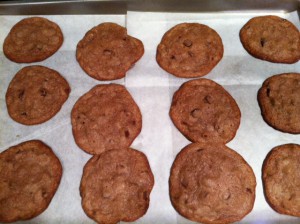 Nutella Chocolate Chip Cookies
(Original recipe from Nestle Toll House; modified by TRB)
2 sticks salted butter
3/4 cup granulated sugar
3/4 cup dark brown sugar
2 large eggs
1 tbsp. vanilla extract
2 1/4 cups all purpose flour
1/2 tsp. Kosher salt
1/2 tsp. baking soda
2 heaping tbsp. Nutella
1 bag Ghirardelli semi-sweet chocolate chips
1. Preheat oven to 350 degrees. In a medium bowl, cream the butter with the sugars until light and fluffy. Add eggs, one at a time. Mix until incorporated. Add vanilla extract.
2. Measure flour, salt and baking soda. Add dry ingredients to wet ingredients a bit at a time until no streaks of flour remain.
3. Add Nutella and mix until well incorporated. Add semi-sweet chocolate chips and carefully fold into batter.
4. Line two baking sheets with parchment paper. (I used these super easy pre-cut baking sheets courtesy of The Smart Baker!) Using a teaspoon, place dough onto sheets at least 2 inches apart. Bake for 10-12 minutes. Cool on a rack for at least 5 minutes. Enjoy!