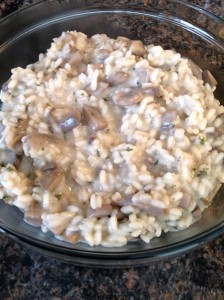 Bet you never thought you'd see the words "quick and easy" proceed a risotto recipe. Guess what? I would have totally agreed with you before I went ahead and tried this one at home.
Risotto was another one of those delectable dishes at the top of my "too intimidating" list. You'll certainly recall that I successfully (and deliciously) conquered my fear of Tri-Color Cookies — in fact, I make them all the time now! I was wayyyy overdue to cross another off the list.
Truth be told, I've become a Trader Joe's junkie. My affinity for this specialty grocery store was bad before — I even started a Facebook Fan Page to bring a location to my neighborhood — and, now that I live approximately 10 minutes away, I'm there every single week. They may even know me by name. <Insert sheepish shrug here>
So, as I was grazing the produce aisle on a recent weekly "fix," I just happened upon some sliced mushrooms, grated parmesan and arborio rice and thought I'd give it a go. The rest, as they say, is glorious cheesy goodness.
While this recipe is not at all difficult, it is labor intensive. It's not one of those "throw it in the oven and walk away" dishes I normally gravitate towards. But, don't misunderstand me. It is soooo worth it. Just follow the recipe, hang in there, and you will not be disappointed.
Mushroom Risotto
(Adapted by TRB from A Family Feast and the recipe on Trader Joe's Arborio Rice box)
Serves 4-6
1 package sliced white mushrooms, diced
1 tbsp. unsalted butter
1 tbsp. olive oil
1 large shallot, diced
1 cup Arborio rice
2 1/2 cups heated low-sodium chicken stock
1/3 cup white wine (TRB used Moscato)
1 cup grated parmesan cheese
1/4 tsp. dried parsley
Salt and pepper to taste
1. Heat chicken stock in a small pan. In another saucepan, combine butter and olive oil. Heat until butter melts. Add shallots and saute until translucent. Add mushrooms and cook until they soften, stirring often. (Sprinkle lightly with salt to release moisture from mushrooms). Add Arborio rice and stir until well-coated and lightly toasted.
2. Add the wine and cook until evaporated. Add in 1/4 cup of chicken stock to rice and stir constantly until rice absorbs the liquid. Keep adding 1/4 cup of the stock at a time until all of the liquid is absorbed — and continue to stir for approximately 25 minutes — until rice is plumped and soft, but not mushy.
3. Remove from heat when there is just a small amount of liquid remaining and add parmesan cheese, parsley and salt and pepper to taste. Stir to combine all ingredients. Let sit for 5 minutes and serve.
Will you try this recipe at home? What other "mix-ins" would you add? (Asparagus and butternut squash come to mind!) Share your "risotto experience" with us — post a comment below.

P.S. This would make a fabulous "Meatless Monday" meal.