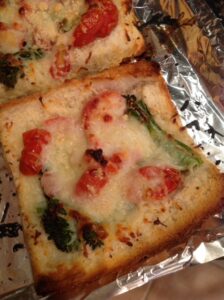 Don't hate me because I've been so…quiet. For the past two months, I've been struggling with a broken foot. I'm happy to report that over the course of my convalescence, I've become really good at a few things: using crutches, going up and down stairs on my butt (think tricep dips!), ordering groceries online and cooking while standing on one leg. Yeah, for reals.
I have to say, when I first found out I fractured my sesamoid bone (I didn't know I *had* one until I broke it), I was worried that my inability to remain active would lead to weight gain. Well, let me tell you, getting around on crutches is no joke. It's a total upper body and core workout! Making my way to the ladies room at the office is like completing a triathalon…
So, I haven't had much strength left for super involved meals lately. As I was watching Ree Drummond cook up some French Bread Pizzas on Food Network this weekend, I immediately got inspired. Add a Pinterest search to the mix, where I found this Roasted Tomatoes and Broccoli Rabe Flatbread recipe, and you'll see where I'm going with this one. Plus, with all of this "working out," I can certainly afford to have my favorite food group — pizza!
I'm a huge fan of Stop & Shop's Italian Bread. It's larger than a typical loaf of Italian bread and much softer. It's perfect for making hero sandwiches or just dipping in "Sunday Gravy," but it's also fantastic for Italian Bread Pizzas. Pair the bread with a bunch of broccolini, a pint of grape tomatoes and a bag of a shredded Italian cheese blend, and you're ready to make one of the best 30 minute meals ever. (Disclaimer: I'm not being paid for an endorsement, though, I'm certainly not above it, Stop & Shop — "Will Write For Food"?)
What I think I like best about this recipe is that there's not a lot of prep involved — even those of you who don't like to spend time in the kitchen can handle it. Even better, there's minimal clean up; just cover your baking sheets with tin foil to avoid washing dishes!
Give this one a try and let me know what you think. Bonus points to those of you who try it while standing on one leg.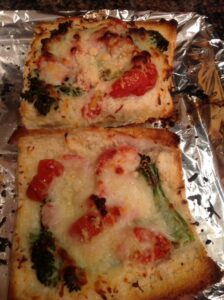 Italian Bread Pizzas with Roasted Tomatoes and Broccolini
(Makes 4 servings)
1 loaf Italian bread
1 bunch broccolini
3/4 pint grape tomatoes
1/2 bag shredded Italian cheese blend (or shredded mozzarella)
2 tbsp. grated parmesan cheese
olive oil
salt, pepper and garlic powder
1. Preheat oven to 400 degrees. Rinse broccolini and tomatoes; pat dry and arrange on a baking sheet covered in tin foil. Sprinkle with salt, pepper and garlic powder, and spritz with canola or olive oil. Roast for 20 minutes or until tomatoes begin to burst and broccolini begins to crisp.
2. In the meantime, slice the loaf of Italian bread in half and then length-wise into quarters. Arrange on another baking sheet covered in tin foil. Sprinkle with olive oil, salt, pepper and garlic powder. Cover each with a handful of shredded Italian blend cheese.
3. Remove tomatoes and broccolini from oven; cut into bite size pieces. Turn the oven up to 450 degrees. Arrange vegetables on each "slice," adding an equal amount of tomatoes and broccolini to each piece. Cover with remaining shredded Italian cheese blend and a sprinkle of grated parmesan. Bake for 10-15 minutes or until cheese begins to brown and bubble. Remove from oven and let cool for 2-3 minutes before serving.
Enjoy!
P.S. A special thank you to all of our veterans. Your sacrifice makes our freedom possible, and for that we are grateful.