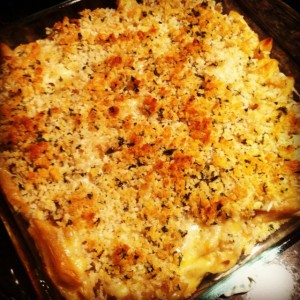 The kids are back at school, the weather is distinctly cool and crisp, football season is in full swing and it'll soon be time for apple and pumpkin picking. Fall is by far my most favorite time of year to be in the kitchen. For me, there's nothing like the smell of a fresh apple pie baking in the oven, while a pot of Sunday "gravy" simmers on the stove and football whistles blare on the TV in the background. It's the absolute perfect end to a typical autumn week.
So, as I dream of the fall weekends to come, here's a quick and easy recipe for a comforting dinner that won't break the bank or the scale: Homemade Mac n Cheese topped with crispy, buttery Panko breadcrumbs. Give this one a whirl and you'll have plenty of time to whip up that apple pie too.
Homemade Mac n Cheese
(Serves 4*)
4 tbsp. unsalted butter
4 tbsp. flour
2 cups reduced fat cheddar cheese
2 cups low-fat milk
1 lb. whole wheat penne pasta
1/2 cup panko bread crumbs
Sprinkle of salt, pepper, onion and garlic powder
1/2 tsp. parsley
2 tbsp. olive oil (or enough to coat bread crumbs)
1/4 grated Parmesan cheese
1. Preheat oven to 400 degrees. Cook pasta according to directions. About 2 mins before normal cooking time is up, drain and rinse under cold water. (Pasta should be al dente).
2. In a medium stock pot, melt butter and add flour. Stir to create a roux – the mixture will turn golden brown. Take care not to burn. Add milk and whisk until mixture thickens. Add shredded cheddar cheese and drained pasta. Mix to coat.
3. Pour a little olive oil in an 8×8 baking dish and swirl to coat the pan. Pour in pasta and top with Parmesan cheese.
4. In a small bowl, mix bread crumbs, seasoning and parsley with olive oil -until bread crumbs are coated. Spread over top of pasta.
5. Bake for 20-25 minutes or until top turns golden brown. Remove from oven and let set for 5-10 mins before serving.
* You can even freeze the leftovers for another night's dinner like I did!
What's your favorite comfort food for fall? Post a comment below.