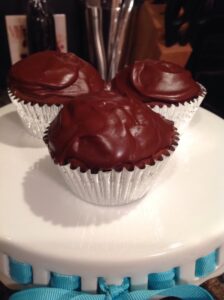 The holidays are finally here! TRB is not only super excited to make some of the most wonderful sweets of the year, but also to share some big news for this season. I'm proud to welcome you to the first post in a special series — 12 "Divine" Holiday Treats.
TRB has partnered with Divine Chocolate USA to bring you two chocolate desserts a week from now until New Year's Eve. Inspired by the concept of "Julie and Julia," each recipe has been tried and tested by TRB from Divine Chocolate Cookbook: Heavenly Chocolate Recipes with a Heart and uses fabulous Divine Chocolate products. The idea is to keep your holiday table full of yummy chocolate treats to enjoy with your family and friends. (Really, you can never have enough chocolate!)
If you love to bake with chocolate and are not familiar with Divine Chocolate, a fairtrade chocolate company owned by its cocoa farmers, it's time to get acquainted. You can typically find Divine products at Whole Foods, The Food Emporium and Wegmans. Get the full Divine Chocolate story and locate a store near you.
Our first recipe — a perfect complement to the pumpkin and pecan pies on your Thanksgiving table — are these Really Rich Cupcakes. A cross between rich brownies and cake, these are sure to please the chocoholics at your gathering and they couldn't be easier to prepare!
Showcasing the flavor of Divine's 70% Bittersweet Dark Chocolate, the ganache topping made me a very happy girl. I did substitute non-fat Greek yogurt for sour cream in my version of these cupcakes and, admittedly, they were a little dry. Since it *is* the holiday season, go ahead and indulge in the sour cream. (I often substitute low-fat with great results). I also love incorporating coffee into chocolate recipes because it really brings out the flavor of the chocolate, so I made a slight adjustment to the recipe, including 1 tsp. of instant coffee powder.
You can opt to make this recipe as a loaf cake instead, but the added bonus of preparing cupcakes is that the possibilities are endless for making them festive — pick up your favorite seasonal baking cups and save yourself clean up time in the kitchen too!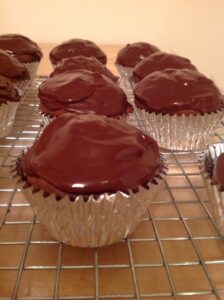 Really Rich Cupcakes
(Original recipe from Divine Chocolate Cookbook: Heavenly Chocolate Recipes with a Heart)
Makes 12 cupcakes or one loaf cake
Cake:
(1) 3.5 oz. Divine Dark Chocolate bar
1 and 3/4 sticks unsalted butter
1 cup granulated sugar
4 eggs
1/2 cup sour cream
1 tsp. instant coffee powder
1 and 1/2 cups all-purpose flour
2 tsp. baking powder
Topping:
(1) 3.5 oz. Divine Dark Chocolate bar
1 tbsp. light corn syrup
2 tbsp. unsalted butter
1. Preheat the oven to 350 degrees. Break up the chocolate bars and melt gently. Add coffee powder and stir until dissolved. Remove the bowl from the heat and leave to cool until needed. Cream the butter and sugar until light and fluffy. Beat in the eggs one at a time, beating well after each addition.
2. Stir in the sour cream on low speed, followed by the flour and the melted chocolate, mixing gently until thoroughly combined. Spoon the mixture evenly into a muffin tin lined with festive baking cups. Bake for about 25 minutes until firm to the touch. Remove from the tin and leave to cool on a wire rack.
3. Prepare the topping: Break up the chocolate and melt gently. Remove the bowl from the heat and stir in the corn syrup and butter. Leave to cool and thicken slightly, then either dip the top of the cupcakes into the topping or spoon it on. Leave to set.
You can store the cupcakes in an airtight container for up to 4 days. Un-iced cakes can be frozen for up to a month.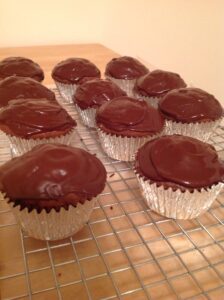 To make a loaf cake:
Follow the directions to make the cupcakes as above. Spoon into a 2-lb loaf tin greased and base lined. Bake for about an hour or until a toothpick inserted in the middle comes out clean. Cool for 5 minutes, then remove the cake from the tin and leave to cool on a wire rack. Spread the topping thickly over the cake.
Want to bake with Divine Chocolate this holiday? Look out for giveaway details next week!
Did you try this recipe? What did you think? Post a comment below.