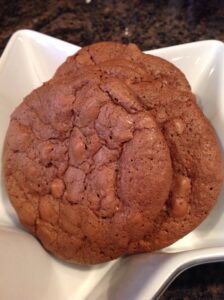 When it comes to chocolate desserts, which do you love more — cookies or brownies? Can't decide? Then, you're in luck because this next recipe from Divine Chocolate Cookbook: Heavenly Chocolate Recipes with a Heart combines the best of both worlds.
Half Cookie, Half Brownie brings the flavor of a gooey chocolate brownie into a delectable chocolate cookie. Add in some pecans, walnuts or another nut of your choice, and you've got the perfect treat for your next holiday gathering.
What I love most about this recipe, perhaps, is that there's minimal mess involved. Make your batter in a bowl and then bake your Half Cookie, Half Brownie treats on cookie sheets lined with parchment paper for easy-peasy clean up.
I opted not to add the additional chopped chocolate the original recipe calls for — I thought the melted chocolate and cocoa powder delivered the optimal amount of choco-goodness for this dessert. Feel free to add it, though, if you want more!
Half Cookie, Half Brownie
(Original recipe from Divine Chocolate Cookbook: Heavenly Chocolate Recipes with a Heart)
Makes 20
(2) 3.5 oz. Divine Dark Chocolate Bars
4 tbsp. unsalted butter, very soft
2 eggs at room temperature
3/4 cup granulated sugar
4 tbsp. all-purpose flour
1 tbsp. Divine Cocoa Powder
1/4 tsp. baking powder
pinch of salt
1 cup of walnut or pecan pieces (TRB used pecans)
1/2 of a 3.5 oz. Divine Dark Chocolate bar, roughly chopped
1. Preheat the oven to 350 degrees. Line two cookie sheets with parchment paper. Break up the dark chocolate and melt gently. Remove bowl from heat and stir in butter. Leave to cool until needed.
2. Whisk eggs and sugar until thick, pale and foamy (about 3-4 minutes). Whisk in the chocolate mixture. Sift the flour, cocoa, baking powder and salt into the mixture. Add the nuts and gently mix in.
3. Using a heaping tablespoon for each cookie, spoon the mixture onto the prepared trays, spacing the cookies well apart to allow for spreading. Bake in a heated oven for 10-12 minutes until just set and starting to crack. Remove the trays from the oven and allow to cool before gently removing.
Store in an airtight container and eat within 5 days. (These freeze really well too!)
Other "Divine" Holiday Treats you might enjoy:
Really Rich Cupcakes
Incredibly Rich Fudge and Nut Shortbread
Old-Fashioned Chocolate Buttermilk Poundcake
And, don't forget to enter the 12 "Divine" Holiday Treats Giveaway to win a gift set from Divine Chocolate! Learn more.