Ready or not, Turkey Day is behind us and Cyber Monday is upon us. In other words, it's "prime" holiday time — a favorite of many for gathering with family and friends over sweet treats. Well, Divine Chocolate Cookbook: Heavenly Chocolate Recipes with a Heart has another recipe that will work perfectly for your Hanukkah, Christmas or New Year's table — an incredibly rich Old-Fashioned Chocolate Buttermilk Pound Cake.
This cake features the intense flavor of Divine Cocoa Powder, which is heightened by the addition of coffee powder to the batter. The use of buttermilk ensures that the cake stays moist, yet dense. The recipe calls for this cake to be baked in a springform tin, but I opted to prepare mine in a Bundt pan. (There's just something about the look of a Bundt cake that seems more festive, right?!)
No matter how you slice it, there's no denying that this simple chocolate goodness is sure to satiate the dessert lovers in your crowd. While it doesn't need more than a dusting of powdered sugar for serving, you could consider whipping up a quick drizzle frosting — sugar glaze or coffee would work well here.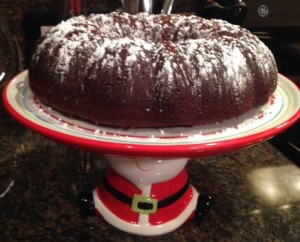 Old-Fashioned Buttermilk Poundcake
(Original recipe from Divine Chocolate Cookbook: Heavenly Chocolate Recipes with a Heart)
1 and 1/2 cups all-purpose flour
1/2 cup Divine cocoa powder
1 tsp. baking powder
1/2 tsp. baking soda
pinch of salt
1 and 1/2 sticks of unsalted butter, softened
1 cup granulated sugar
3 eggs
2 tsp. instant coffee powder
1 and 1/4 cups buttermilk
powdered sugar for dusting
1. Preheat the oven to 350 degrees. Prepare a bundt pan – grease and lightly dust with cocoa powder. Sift the flour with the cocoa, baking powder, baking soda and salt. Set aside.
2. Cream the butter and sugar until light and fluffy. Beat in the eggs one at a time, incorporating after each addition.
3. Stir the coffee into the buttermilk. Gradually add the buttermilk and flour mixture to the butter and sugar mixture, alternating additions and ending with flour. Spoon batter into prepared tin and bake for 50-55 minutes or until a toothpick inserted into the center comes out clean.
4. Dust with powdered sugar before serving. Enjoy!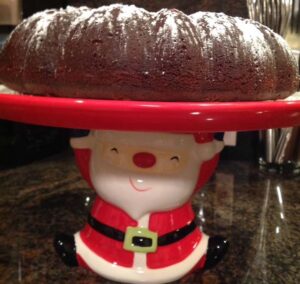 Store in an airtight container and eat within 5 days.
Other "Divine" Holiday Treats you might like:
Really Rich Cupcakes
Incredibly Rich Fudge and Nut Shortbread