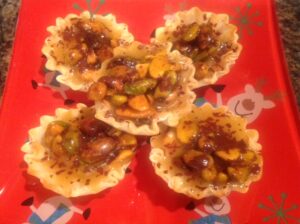 By now, the glitter and torn wrapping paper have settled. And, while most of your holiday cookies are probably *still* hanging around, it's time to start thinking about your New Year's Eve feast. If you're like me, you're planning to stay in, order some takeout and watch the ball drop from the comfort of your couch. (Throw in some wine, and you'll have me at "Happy New Year!")
This next "Divine" Holiday Treat — Baklava — is the perfect accompaniment for a champagne toast at midnight. It's even better if you plan to have guests join you for the countdown to 2014. Give it a try and you'll be singing Auld Lang Syne in no time!
Here's a "secret:" I love baklava, but I don't love all of the time and effort that goes into making it the traditional way. Surprised? My version is a quick and easy take on this beloved Greek classic. Instead of sheets of phyllo dough, I've substituted prepared phyllo cups. (You can find these in the frozen section of the grocery store and they come 15 to a package. Just thaw out for about 10 minutes on the counter while you prepare the filling, and you're good to go).
Now, traditional baklava doesn't have any chocolate, but this *is* a "Divine" Holiday Treat. Just shave some Divine Dark Chocolate over the cups for a festive — and deliciously rich — topping to these buttery bite-size wonders.
Baklava
(Original recipe from Food Network magazine, adapted by TRB and inspired by the Baklava recipe in Divine Chocolate Cookbook: Heavenly Chocolate Recipes with a Heart)
Makes 15
15 Mini phyllo shells
4 tbsp. butter
1/4 cup pistachios, chopped
1/4 cup honey
1/4 cup granulated sugar
1 tsp. lemon juice
1/4 tsp. lemon zest
1/4 tsp. cinnamon
Pinch of salt
1/2 of a 3.5 oz. Divine Dark Chocolate Bar for shaving
1. Line a baking sheet with tin foil. Arrange 15 mini phyllo shells in 3 rows.
2. In a saucepan, melt butter over medium heat. Add nuts, honey, sugar, lemon juice, lemon zest, cinnamon and salt to saucepan. Cook, stirring until thick, about 5 minutes.
3. Using a teaspoon, fill the phyllo shells with the mixture. Let stand for a few minutes before serving, as mixture is hot. While cups cool, shave Divine Dark Chocolate over top with a zester.
Other "Divine" Holiday Treats you might enjoy:
Really Rich Cupcakes
Incredibly Rich Fudge and Nut Shortbread
Old-Fashioned Chocolate Buttermilk Pound Cake
Half Cookie, Half Brownie
Divine Brownies
American Pecan and Chocolate Coffee Cake
Ultimate Chocolate Chip Cookies
Flourless Rich French Torte
Fudgy Chocolate Bars
Big Quick Cake