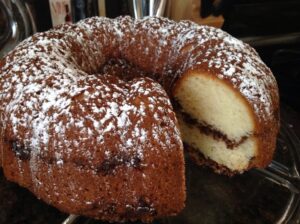 We've made it — we're officially halfway through TRB's 12 "Divine" Holiday Treats adventure! Who's excited?!
Well, this next recipe comes not a moment too soon. In fact, I've got to admit, it's my favorite in Divine Chocolate Cookbook: Heavenly Chocolate Recipes with a Heart, and I absolutely cannot wait to share it with you! It's none other than American Pecan Chocolate Coffee Cake.
Let's back up for a second and discuss the *idea* of coffee cake — a dessert designed to allow you to indulge in a sweet treat over a nice warm cup of coffee. (And, who doesn't need a break at the holidays?)
What makes this cake so special is the decadent pecan, chocolate (Divine Dark Chocolate, of course!), cinnamon and brown sugar streusel baked into the middle and bottom of this light and fluffy cake, which is simply delectable in its own right. It almost reminds me of the Crumb Cake I recently perfected, only a little lighter. (I love baking with sour cream, don't you?) I had to tweak it ever so slightly; I added a tablespoon of vanilla to the batter — just for good measure.
Entertaining guests on short notice? This recipe couldn't be easier to whip up. (Did I mention how much I love it?!) Grab your Bundt pan and let's get started!
American Pecan Chocolate Coffee Cake
(Original recipe from Divine Chocolate Cookbook: Heavenly Chocolate Recipes with a Heart)
For the streusel layers:
1 and 1/4 cups pecans, lightly toasted
3.5 oz. Divine Dark Chocolate bar
4 tbsp. light brown sugar
1 tsp. ground cinnamon
For the cake:
2 sticks unsalted butter, very soft
3/4 cup granulated sugar
2 large eggs
1 cup sour cream (TRB used light sour cream)
1 tbsp. vanilla extract
2 and 1/2 cups all-purpose flour
1/2 tsp. baking soda
2 tsp. baking powder
a good pinch of salt
powdered sugar for dusting
1. Preheat the oven to 350 degrees. Grease a Bundt pan and set aside. Make the streusel layer: break up the chocolate bar and roughly chop in a food processor. Add the pecans, light brown sugar and cinnamon and process until the nuts and chocolate are a medium-fine texture.
2. In a separate bowl, beat the butter and sugar until light and fluffy. Beat in the eggs, one at a time, incorporating after each addition. Stir in the sour cream and the vanilla. Sift the flour, baking soda, baking powder and salt into the butter and sugar mixture and incorporate.
3. Spoon half of the cake mixture into the Bundt pan and spread evenly. Sprinkle half of the streusel mixture over the cake. Gently spoon the rest of the cake batter over the streusel layer and spread evenly. Sprinkle the remaining streusel mixture on top and press down into the cake layer with the back of a spoon. Bake for 45-55 minutes or until a toothpick inserted in the center comes out clean.
4. Remove the pan from the oven and let cool completely before turning out onto a serving dish. Dust with powdered sugar and serve!
Store in an airtight container and eat within 4 days. (If it lasts that long!!)
Other "Divine" Holiday Treats you might enjoy:
Really Rich Cupcakes
Incredibly Rich Fudge and Nut Shortbread
Old-Fashioned Chocolate Buttermilk Poundcake
Half Cookie, Half Brownie
Divine Brownies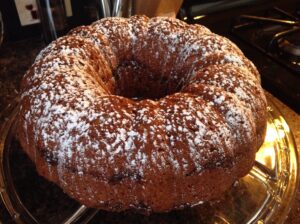 Have you entered for a chance to win a holiday gift set from Divine Chocolate? Contest ends on Dec. 15. Learn more.