Just when I thought dinner couldn't get any better…it did. Risotto + pancetta + tomatoes + breadcrumbs = sheer deliciousness. Trust me, this is one of those recipes you need to run out, buy ingredients to make and then get straight to work in your kitchen. And, it won't take long until all of this joy can be yours.
Nothing makes me happier than a recipe that calls for fresh, simple ingredients. This one has it all. I was inspired to make this dish after drooling over reading about Smitten Kitchen's Rice-Stuffed Tomatoes. I recently mastered risotto (it's surprisingly easy!) and one of my most favorite recipes *ever* is The Italian Dish's Spaghetti with Roasted Tomatoes, Garlic and Pancetta, so I thought, why not combine them? Divine inspiration? Apparently.
While there are a few key steps involved, you'll be singing the praises of this meal in no time. It's one of those rare occasions in which I'll gladly say, "I told you so."
Risotto Stuffed Tomatoes
(Inspired by Smitten Kitchen and The Italian Dish)
6 medium, ripe tomatoes
6 oz. diced pancetta
1 small onion, diced
2 cloves of garlic, crushed
1/4 tsp. red pepper flakes
9 tbsp. Arborio rice
1/3 cup white wine (TRB used Moscato)
1/2 tsp. dried basil
2 large handfuls of parmesan cheese
1/2 cup Panko breadcrumbs
1 tbsp. olive oil
salt and pepper to taste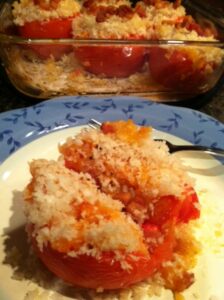 1. Preheat oven to 350 degrees. Prepare the tomatoes: Slice off the tops, core and scoop the flesh and seeds of the tomatoes into a medium bowl, and reserve. Prepare an 8×8 glass baking dish with one tablespoon of olive oil. (This will ensure your tomatoes won't stick to the baking dish). Arrange the tomatoes in the dish, so that there is room between them, and lightly sprinkle with salt.
2. Using a food processor or blender, puree the tomato pulp. Set aside. Chop onion and crush garlic in a press. In a small saucepan, cook the pancetta until crispy. Place pancetta aside to drain in a dish with a paper towel. Reserve the grease in the pan.
3. Cook onion in pancetta drippings until translucent. Add garlic and red pepper flakes, and cook for about 2 minutes. Add Arborio Rice and cook for 3 minutes more or until lightly toasted. Add the tomato puree, white wine, basil, salt and pepper. Bring to a simmer, cover with a lid and cook for 10-15 minutes or until rice has absorbed the liquid, stirring often. Once the liquid has been absorbed, add parmesan cheese and stir.
4. Fill tomatoes with risotto, leaving a little room at the top. Prepare the breadcrumbs: Mix Panko with olive oil until well-coated. Sprinkle over tomatoes, along with reserved pancetta.
5. Bake for 30 minutes or until tomato walls begin to become soft and break down and breadcrumbs turn brown. Let cool for 5 minutes. Serve as a side dish or main course. Enjoy!!
Will you give this a try for dinner tonight? Let us know how it turns out!