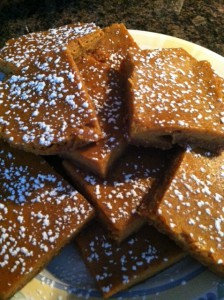 Always on the lookout for "healthy" versions of old classics, I've already been contemplating the upcoming holiday season. (Okay, so I started thinking about it back in July, but you can't really blame me, can you?) With my favorite flavors in the spotlight — pumpkin, cinnamon, maple, pecan and apples — there is plenty of opportunity for experimentation.
Last year, I had the good fortune to interview Devin Alexander, chef, author of the Biggest Loser cookbooks and star of FitTV's Healthy Decadence, for the January / February 2012 issue of BELLA magazine. She was so fantastic about sharing healthy eating tips, I thought it would make total sense to reach out and see what she'd recommend for a lighter version of a holiday classic. And, she totally delivered!
These Pumpkin Pie Bars have all of the flavor of your grandma's traditional pie recipe, but none of the guilt. You'll definitely want to add these to your Thanksgiving table.
Pumpkin Pie Bars
Makes 12 servings or 24 portions
Recipe from Devin Alexander's THE MOST DECADENT DIET EVER!*
Butter-flavored cooking spray
11/4 cups finely crushed low-fat graham crackers (about 9 whole crackers)
1/4 teaspoon ground cinnamon
1/4 cup light butter (stick, not tub), melted
4 large egg whites
One 15-ounce can solid pumpkin purée
One 14-ounce can fat-free sweetened condensed milk (not evaporated milk)
11/2 teaspoons vanilla extract
2 tablespoons brown sugar (packed)
11/4 teaspoons pumpkin pie spice
12 tablespoons fat-free frozen whipped topping, defrosted
1. Preheat the oven to 350°F. Mist an 11 X 7-inch ovenproof glass baking dish with spray.
2. Mix the graham crackers, cinnamon, and butter in a small mixing bowl until combined. The crumbs should stick together slightly. Transfer them to the baking dish. Use a piece of wax paper about the same size as the bottom of the pan to press them to evenly cover the bottom. Bake for 6 to 8 minutes, or until the crust is slightly browned. Set aside.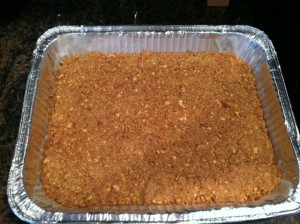 3. Use a sturdy whisk to lightly beat the egg whites in a large bowl. Add the pumpkin and condensed milk and continue mixing. Next, add the vanilla, brown sugar, and pumpkin pie spice. Stir until well combined.
4. Pour the filling over the crust and bake for 35 to 40 minutes, or until a toothpick inserted in the center comes out dry (crumbs are okay).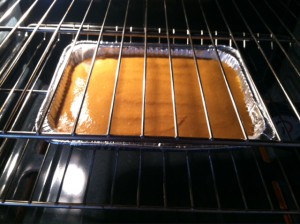 5. Cool the pan on a wire rack for 10 minutes, and then slice into 12 or 24 bars. Transfer 1 bar to a serving dish and top with 1 tablespoon whipped topping, if making 12 full-sized bars, or 11/2 teaspoons, if making 24 mini-bars. Repeat with the remaining bars and whipped topping, or refrigerate in an airtight container for up to 3 days.
Each 1-Decadent-Disk portion ( 1/24 recipe) has: 96 calories, 3 g protein, 18 g carbohydrates, 1 g fat, <1 g saturated fat, 5 mg cholesterol, <1 g fiber, 80 mg sodium
Each 2-Decadent-Disk serving ( 1/12 recipe) has: 191 calories, 5 g protein, 36 g carbohydrates, 3 g fat, 1 g saturated fat, 9 mg cholesterol, 2 g fiber, 160 mg sodium
You save: 99 calories, 11 g fat, 5 g saturated fat 
Traditional serving: 290 calories, 4 g protein, 40 g carbohydrates, 14 g fat, 6 g saturated fat, 63 mg cholesterol, <1 g fiber, 246 mg sodium
(*Copyright © 2008 by Devin Alexander published by Broadway Books, a division of Random House Inc.)