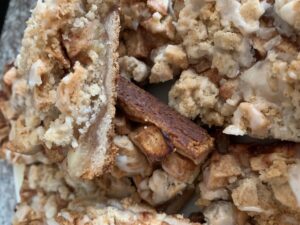 The moment we've been waiting all year for is almost here. Oh, wait – I am incorrect to assume you all love Thanksgiving as much as I do?  Well, let's go along with the idea you love it half as much as I do, and this post will be right up your alley. Apples, pumpkin and cinnamon — oh my!
By late August, I was packing my Pinterest boards full of delicious fall recipes. If you've been following, then you've probably noticed I'm quite obsessed with orange things at the moment. (Yes, that includes cheddar cheese). But, I'm putting those aside to focus on apples today – and, boy, do I have a quick & easy treat that would make a perfect dessert for — you guessed it! — Thanksgiving.
My favorite thing about this recipe is the buttery shortbread crust, which also doubles as a crumb topping. It comes together pretty fast, and is versatile in the sense that you can cut large or small bars, depending on the size of the crowd around your Thanksgiving table. I also love that the ingredients are very simple — apples, butter, flour, lemon juice, cinnamon, granulated sugar and a dash of milk & powdered sugar — are all you'll need to dazzle your family and friends.
Go ahead. Make a tray of these for the holiday. It will be one of the best — and easiest — treats you prepare!
Apple Pie Crumb Bars
Recipe adapted from Pastry & Beyond
Apple Filling
4 apples, chopped into cubes
2 tbsp. granulated sugar
3 tbsp. all purpose flour
Juice of 1/2 a lemon
1 tsp. cinnamon
Crust & Crumb Topping
2 cups all purpose flour
1 tsp. salt
1 stick of unsalted butter, cold and cut into cubes
1/2 cup granulated sugar
1 tsp. cinnamon
Glaze
1/2 cup powdered sugar
2 tbsp. milk of choice (I used oat milk)
1. Preheat the oven to 350 degrees. Line an 8×8 pan with parchment with a few inches of overhang on each side. (This will make it easier to remove the bars once baked. Grease the sides of the pan, so the bars do not stick.
2. Peel and chop the apples and place in a large bowl. Toss with sugar, flour, lemon juice and cinnamon. Set aside while you prepare the crust & crumble topping.
3. In another large bowl, combine flour, sugar and cinnamon with the cubed butter. Using your fingers or a pastry cutter, work the butter into the dry ingredients until it resembles coarse crumbs. Keep working it gently until it forms a ball. Once the dough comes together, separate into 2/3 and 1/3 pieces.
4. Spread 2/3 of the dough into the bottom of the pan. Top with the apple filling. Then, crumble the remaining 1/3 of the dough over the top of the apple filling.
5. Bake for 45-50 minutes or until the top is golden brown. Let cool completely.
6. Mix the powdered sugar and milk in a small bowl. (If glaze is too thin, add more sugar; if too thick, add more milk). Drizzle over top. Remove from the pan and slice into bars — I opted for 9 large bars, but you can go for 16 smaller ones, especially if you're expecting a crowd!
Enjoy!