Happy 2014! It's time for our final "Divine" Holiday Treat and I've saved the best for last: Warm Chocolate Torte. Now, I know you're thinking, "The holidays are over." However, New Year's Day fell in the middle of the week and I'm not starting my diet until Monday, so….
Warm Chocolate Torte is a fabulous dessert idea, especially if you are getting together with friends you weren't able to see over the holidays this upcoming weekend. With a snow storm on the way in the Northeast, it's also a delightful treat for sitting by the fire while the weather outside is frightful. It's quick and easy to make, and best of all, it's gluten-free!
Of course, and as with most of the "Divine" Holiday Treats, I had to put a spin on the original recipe. By now you probably know I'm not a lover of the springform tin. (Mostly because mine leaks and I need to purchase a new one. Ho hum). But I am a HUGE fan of the ramekin. Why? Single servings = much less guilt. They are also suitable for freezing and saving for later — like when you come home from a rough day at the office during the week. Just microwave for a minute and you're set!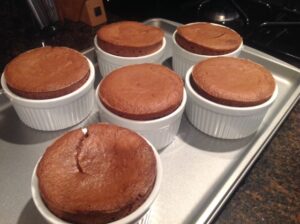 So, I opted to make 6 individual servings rather than an entire cake. I also substituted almond meal for hazelnuts and added about 1/2 cup more sugar. The recipe calls for separating the eggs — whipping the whites and folding them into the batter; I opted to just add them whole and it worked out well.
No matter what the occasion, I strongly suggest you make this recipe and soon. You could top the tortes with whipped cream and berries, as the original recipe recommends. Truth be told, I can't wait to top mine with a scoop of sea salt and caramel gelato. YUM!
Warm Chocolate Torte
(Original recipe from Divine Chocolate Cookbook: Heavenly Chocolate Recipes with a Heart)
Makes 6 individual servings or one large cake
1 cup almond meal or 1 cup toasted hazelnuts
(1 and 1/2) 3.5 oz. Divine Dark Chocolate bars
9 tablespoons unsalted butter, very soft
1 cup granulated sugar
4 large eggs, at room temperature
powdered sugar for dusting
whipped cream and berries for serving, if desired
1. Preheat the oven to 400 degrees. Grease 6 ramekins and set aside on a baking sheet. Gently melt the chocolate in a small bowl and set aside to cool. Beat the butter with the sugar until light and fluffy. Add the eggs one at a time and incorporate. Slowly add the melted chocolate to the butter, sugar and eggs. Add the almond meal and mix to combine.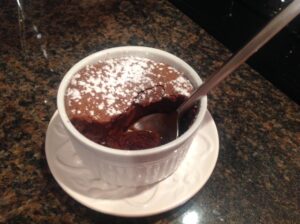 2. Evenly spread the batter among the ramekins. Bake for 10 minutes on 400 degrees, then lower the oven temperature to 350 degrees. Bake for another 10-15 minutes or until the cakes rise and are just firm to the touch. (They will be slightly soft in the center). Let cool for 5-10 minutes before dusting with powdered sugar and serving.
I hope you have enjoyed 12 "Divine" Holiday Treats — it has been a treat for me to bring these fantastic recipes to you. A special thank you to Divine Chocolate and Pauline Stack of BrandFly Marketing for collaborating with me on this series.
In case you missed any of the recipes, here they are again:
Really Rich Cupcakes
Incredibly Rich Fudge and Nut Shortbread
Old-Fashioned Chocolate Buttermilk Pound Cake
Half Cookie, Half-Brownie
Divine Brownies
American Pecan and Chocolate Coffee Cake
Ultimate Chocolate Chip Cookies
Flourless Rich French Torte
Fudgy Chocolate Bars
Big Quick Cake
Baklava